Yes, I love couples in love.  Yes, I adore your stories.  I believe in marriage, and I crave the energy of a wedding day.  But when it gets right down to it, I get seriously inspired by the location.  Place has always been a huge driving force in my work.  Looking back on my art career and training, you'll find I was always drawing, painting, printing and making films about places, and the stories they held.  It is part of why I love to travel so much – I have an insatiable appetite for new places, new stories.  This blog series is all about the places I would love to shoot a wedding at because I find them seriously intriguing, inspiring and amazing.  And I have no doubt that a couple who chooses to get married there would be equally amazing and inspiring and I want to be there to document it.
(all images from the venue's website or google images.  Sadly, they weren't credited.)
A knotted and knarled Catalpa tree thrusts it's way out of the verdant lawn and up into the pale blue Wisconsin sky.  Below it's heavy-laden branches stands a bride and groom, surrounded by concentric circles of family and friends and expanding landscape.  A warm breeze sweeps its way up the hill and rustles the lace of the bride's dress.  They clasp hands, run down the aisle in joy and lead their guests to a stunning outdoor patio, where cocktails await.  As the sun sets among the pines and oaks, dipping below the hilltop they celebrate on, a sister toasts her best friend under a cream-colored canopy with small sparkles of lightening bugs illuminating the moment.  Later on, the rustle of leaves is joined by the strains of music from the 100-year old barn as guests jump, step and jive to the beat, a happy, newly-minted couple at their center.
That wedding could happen at Hilltop: A Gathering Place.  This unique and little-known venue is conveinently right in our backyard – adjacent to the famous Taliesin in Spring Green, Wisconsin.  It's one of those rare "all in one" wedding venues where you can have all of your events hosted on one piece of property providing a fluid and continuous wedding day experience.  The serene and pastoral nature of this wedding venue is an ideal spot for an outdoor wedding and reception for any nature lover.  Given the incredible views available from it's elevated location, late summer and fall are particularly wonderful times to be married there.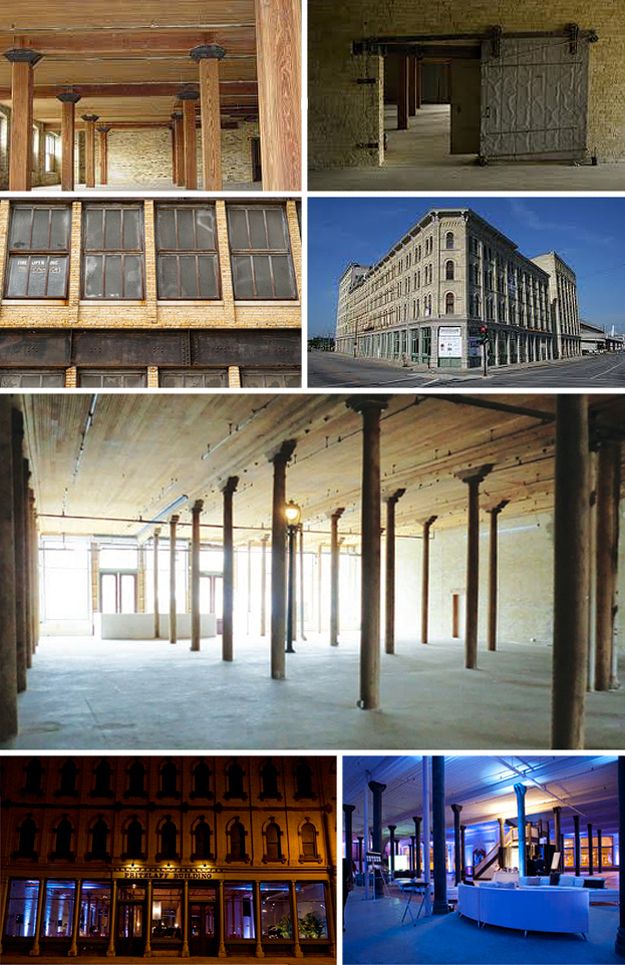 (all images from the venue's website or google images.  Sadly, they weren't credited.)
Footsteps echo across hardwood floors that have seen over 125 years of stories. Light streams in the tall factory style windows.  A bride glides down the aisle of a make-shift ceremony space, eyes locked fixedly on her smiling groom.  They and their guests, laugh, cry, promise and kiss under original timber beams, surrounded by endless cream-city brick.  The feelings are raw, unpolished and original, just like the space they stand in.  Hours later, they glide across a colorfully lit dance floor, circling and swaying amongst massive wood columns.  Glasses clink, faces alight in candle glow, small children play hide and seek and giggles waft across the open-ness.  All too soon, the band is packing up their equipment, the caterers start stacking chairs, and there stands the couple once again.  Her head is on his shoulder and they look around them at the beautiful mess they have created.  Another story to be imprinted into the history of this place.
The Pritzlaff Building has long been one of my favorite structures in Milwaukee's Third Ward.  It's vast, wandering and so full of history.  So, imagine my utter delight when I learned that Gravity Events has opened up an event space there!  Milwaukee has such a wonderful district of warehouse-style urban loft spaces in the Third Ward, but until the Prtizlaff, they were all suited to only more intimate weddings.  The Pritzlaff though is positively massive if you want it to be – with several convertible spaces that could host a wedding of 125 to 400 guests.   The possibilities are endless in this raw and unpolished space – make it elegant, make it hip, make it rustic.  It just doesn't get cooler right now in Milwaukee than the Pritzlaff, and I can't wait to shoot a wedding there!
(all images from the venue's website or google images.  Sadly, they weren't credited.)
All good love stories have a sense of folklore, a bit of fairytale.  Theirs was one of those.  One where the missing beats in its telling made you daydream, made you wonder what filled the spaces.  Strolling along the shore of Lake Geneva that summer, he read out the history and background of the mansions they passed.  One had played host to the playboy club, another a summer home for an industrial era magnate.  She wondered what their lives had been like, what details completed the stories.  Later that summer, they added another chapter to their story at a whitewashed mansion in the little community along the lake.  Standing amongst the generations-old oak trees, their branches swaying a sweet summer breeze, they vowed yesterday, today and tomorrow.  The chandeliers hanging from the branches twinkled with reflected light that evening, casting an aura of mystery and magic over the intimate gathering of family and friends for an open-air party.  The couple spun around the dance floor, weaving amongst their guests, negotiating the spaces between them, leaving some open and others full of new details and snippets of story.
If you've ever visited Lake Geneva, you've likely wondered just who lives in those amazing mansions and homes along the water.  It's long been known as a vacation destination for Chicagoans and others, a little bit of Hamptons-esque flair right in the heart of the midwest.  There's no question the little community is gorgeous and yet still quaint.  Most of the homes are private (and you can rent them for events often), but one of the oldest mansions is also an Inn, and you can get married there. The Golden Oaks Mansion is a little-known venue, but so lovely.  I've always pictured the sort of affair I've described above – an outdoor wedding under the oak trees, a small, intimate open-air reception in the summer breeze.  Lights strung from tree to tree, music wafting in the air, and a beautiful historic mansion standing guard over it all, soaking in this new story.  Of course the bonus of this location is the built-in rain back-up inside the mansion, and the fact that you can stay right there on the grounds with your closest family and friends.  It's like you could step inside one of those stories, and fill it in with a few details of your own.