A little over a week ago, something very, very big happened in my little corner of the world.  A magazine that I have loved, read, collected and torn inspiration from for years published one of my weddings on their blog!
If you follow me on Facebook or Twitter, then you heard the exciting news.
Emily & Nick's destination Door County wedding was published on Martha Stewart Weddings' The Bride's Guide!
Let me catch my breath!  I'm so honored, and so thrilled to see this really beautiful wedding under that masthead.  Even more so, I'm thrilled that all of the amazing vendors from this wedding got the recognition they deserve for their work.  I've repeated that list below.  It's because of their sweat and talents that these sorts of things happen.  I can only try to beautifully photograph what is there.
And, if you click on over to see the feature, you'll see a lovely wedding highlight film by the incomparable I Do Films.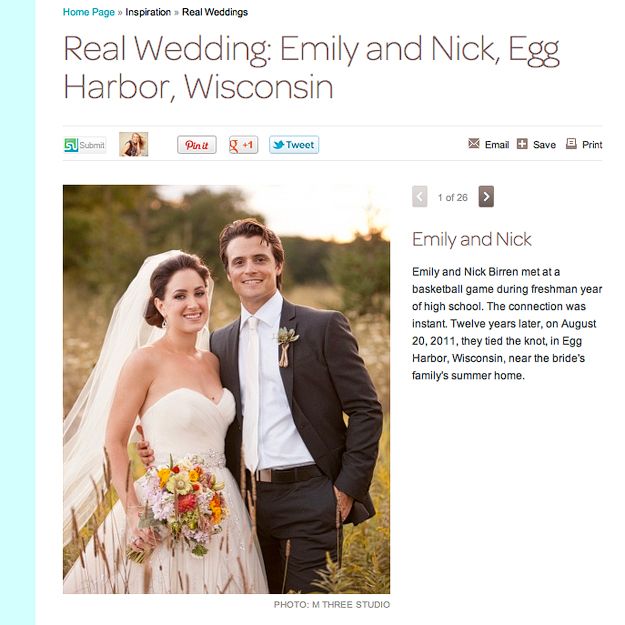 Ceremony Venue: Woodwalk Gallery
Reception Venue: Woodwalk Gallery
Florist: Flora
Wedding Stylists:   Angie McMahon, Viva la Cottage and Emily Gan Birren (Bride), Tina Gan (Bride's Mother)
Cake: Flour Girl Patissier
Bluegrass Band: Eric Lews, George Sawyn, Tommy Burroughs
Vocals: Caroline Reese
DJ: DJ Chicago
Videographer: I Do Films
Caterer: Alexanders of Door County
Bride's Gown: Kenneth Pool
Bridesmaid's Dresses: BHLDN
Hair & Makeup: Darcy Gilmore
Groom's Suit: Burberry