Baby Girl turned one last week.  ONE!  I don't feel like the last year has flown by, but it still seems incredible that she is already one.  So sad to think we only get 17 more of these years where she is all ours, so to speak.
I've had a few newborn shoots recently and the contrast has been really startling between where we were last year at this time, and where we are now.  A year ago we became parents because of her – her birthday will always be a special day for us as well.   There is a Carter's commercial where the little girl is narrating, and she says "on the day I became yours, you became mine".  Oh, how I hope that holds true.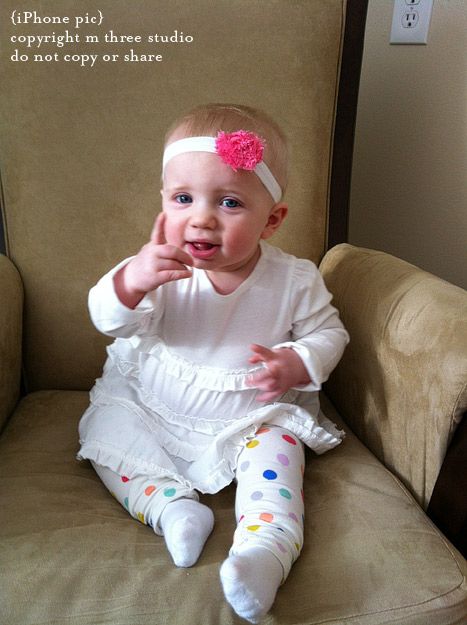 (that would be Baby Girl, showing you how old she is)
—
Of course we threw a big birthday bash for baby girl.  A recap is coming soon!
—
I really want to see the new Les Miserables film, but I've heard terrible things about Russell Crowe's performance.  But visually I think it might be worth it.
—
It's no mystery we are Packer fans.  It was a study in contrasts Saturday with the high of Baby Girl's birthday party in the afternoon and then the devastating loss by the Packers that evening.  Hubby is still upset.
—
I spent a little time cleaning up my boards on Pinterest this last weekend.  I'd love it if you checked them out – and follow me so I can follow you!
—
2013 wedding dates are flying off the shelves.  If you are planning, the time is now to contact me for your date!
—
TV is back, finally.  It was slim pickings there thru the Holidays.  One of my favorites, Downton Abbey is back and the first episode was positively epic.  Oh how I love to immerse myself in that little world breifly.
—
I am LOVING all of the navy clothes I'm seeing out lately.  It's been a hard color to find the last few years – and always been a favorite too.  It's so nice to see so many pieces to choose from in a color I love to wear.   Adversely, I hate all of the neon everywhere.  A friend and I were browsing thru H&M recently and saw some truly frightening fashions.  Seriously, I thought I was looking at costumes.  Does someone really want to wear acid wash jeans again?  Let's leave those, the neon, the printed floral jeans and the giant sweaters behind and call it a lesson learned, shall we?
—
We are on the hunt for a new TV stand/entertainment center.  Our current one is too open and leaves all the electronics open for Baby Girl to mess with.  I may have too many criteria, but the hunt isn't going well.
—
Well, time to get back to work.  Have a great week!