Well, we are finally on the other side of the Fourth of July.  We are still alive, and that is always a victory around here.  It was a rough one on energy, sleep and stamina, and the record heat certainly didn't help.  But it's nice to be moving forward.  The Fourth looms over us for two months each year, and it feels like such a roadblock.  The morning of July 5th we always wake feeling like a huge weight has been lifted.  Hubby's still catching up on sleep and energy, but we are getting there.
—
Before I leave the Fourth officially in the dust. Baby Girl and I did our best to enjoy it.  We headed to the Govenor's Friends and Family celebration again this year.  It was a treat to hang out with my in-laws and enjoy the lake and the (small) breeze.  Baby Girl got her requisite picture with Scott Walker, and in front of the mansion itself.  And then spent the rest of the party passed out on her Grandpa's chest: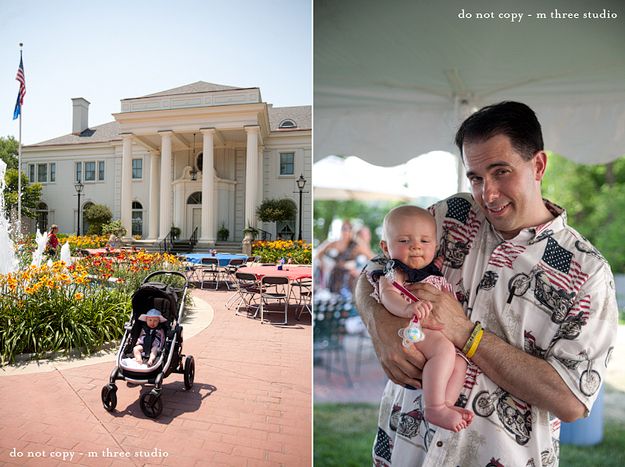 For the Fourth itself, we (Baby Girl and I.  Hubby was working of course) took ourselves to my hometown parade.  We lasted all of 15 minutes in the heat.  The rest of the day was spent at my family's annual party.  Admittedly, the heat put a big damper on everything, but we had fun anyway.  Baby Girl was so hot during the brief periods she spent outside that I gave her a cold & wet towel to hang onto: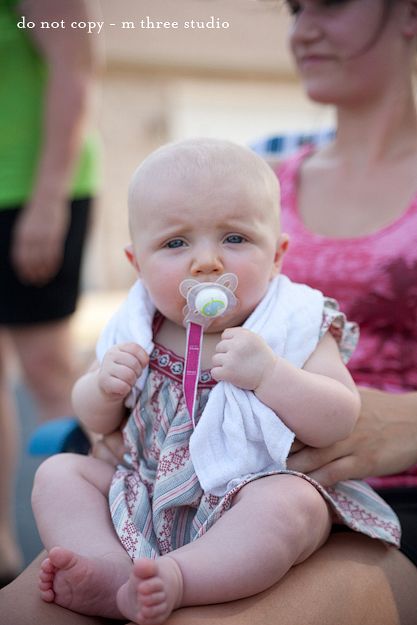 —
We are big Noodles & Company fans here, but some of our favorite dishes are pretty calorie heavy.  When I spotted this low-calorie version of their Penne Rosa on Pinterest, I had to give it a shot.  It's a decent interpretation, and I'll take it for only having around 400 calories.  I also found this recipe on Pinterest, and it was a big hit – even with Hubby who generally doesn't care for Mexican food.
—
So, Baby Girl turns six months old this week.  Oh, how the time does fly.  She's such a little person now, and still so much a baby at times, it's incredible.  She's been eager to sit up as much as possible.  She still needs help, but her favorite thing right now is sitting in her moses basket because it supports her when she tips.  And falling over is a drama inducing incident around here.  Here's a few recent pics of our little lady: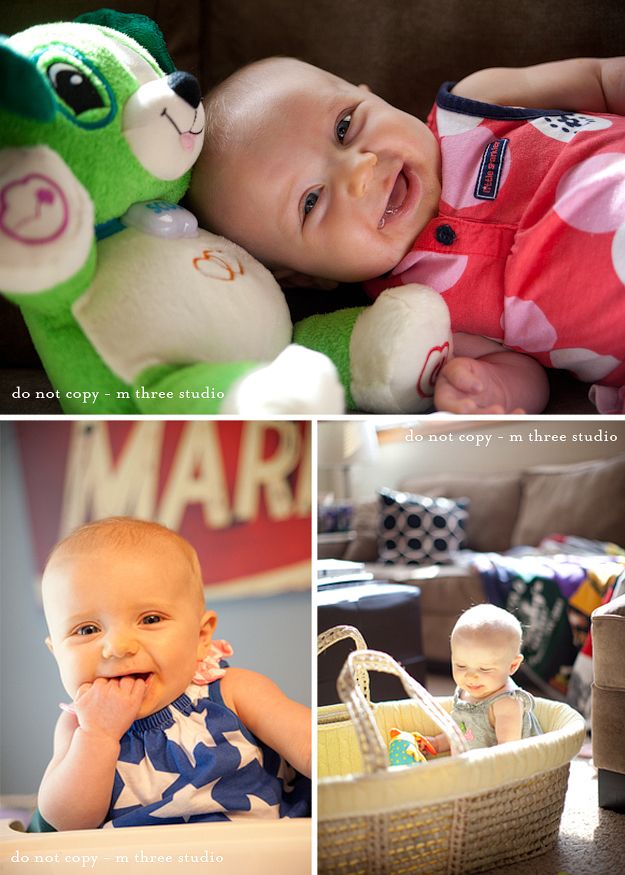 I've been working on a "favorite things for the first six months" post for the blog.  Stay tuned for that.
—
I'm really enjoying "Breaking Pointe" on the CW.  Ballet has always been something I wish I had continued with.
—
We took advantage of the cooler temps and a couple of free hours to introduce Baby Girl to Summerfest.  I have to say, she loved it.  Kicking her feet to the music, watching the crowds go by, the smells, etc – it was all very giggle inducing for her.  We didn't attend any concerts, but we did have our favorite Mozzarella Marinara, which was totally worth the trip alone.  The new stage is impressive, as is the new kid's area.  Summerfest just always gets better.
—
Last weekend was the lovely and well-appointed wedding of Liz & Andy.  Picture Anthropologie- inspired wonderland right on the shore of Lake Michigan in Door County.  Fantastic.  This weekend?  Preppy goodness right here in Milwaukee with Ashlyn and Chris.
—
My Mom's birthday is this week and for the first time in possibly ever, I know exactly what I'm getting her.  She's pretty hard to shop for in my opinion.  But this idea I've had for months.  Love that.
—
County Fair is in two weeks!  Now that is an annual event I can't wait to bring Baby Girl too.
—
I always seem to forget about the St. Martin's Fair, on the first Monday of every month.  We live so close to it, and I see the signs, but then it totally slips my mind.  I'm determined to get there next month.  I'm also hoping to make it to the Elkhorn Flea Market.
—
Our pals Tim and Monica are looking for some food servers and bartenders for their business at State Fair.  It's sure to be a blast if you are looking for some extra cash.  Just follow the link.
—
Well, I better go wake someone up from her nap.  Have a great week!