Thanks to Hubby for taking over the "random thought" blog posts the last two weeks. We have always been a great team, but parenthood is teaching us new ways to help each other out, and him stepping up to help keep the blog active is one of those ways. Yeah, you know you are jealous of my husband!  I have several blog posts half-written, so when I can string together enough minute moments at the computer, one of them should appear.
—
Speaking of how parenthood is changing us. We've never been big into celebrating Valentine's Day. I think once in the last eleven years we went out to dinner in celebration. Anyway, we had agreed again to mostly ignore the day this year. But we ended up giving each other gifts anyway. I gave him six hours of uninterrupted sleep (meaning I got up with Sloane all night) and he gave me the luxury of a normal length shower and getting ready time.  Like, I actually got to blow-dry and fix my hair.  And, it was fabulous. Oh, how times have changed.
—
I stumbled across this amazing love story on facebook last week. A brother and a sister got married. Get your mind out of the gutter though and click here – this is one of the best love stories you'll read, written by their son as tweets – so a series of 140 character or less blurbs.  So sweet.
—
I found out recently that my alma matter, CalArts, was named the Best College for students in the Arts by Newsweek Magazine and The Daily Beast.  Big Congrats!  It's a designation that is so well-deserved.  I think I'll give my degree an extra polish today.
—
Last week I had the honor of shooting the birth story of a fellow photographer/friend and his wife.  It was indescribable to witness the two of them go thru the process of becoming parents.  It was also so hard to strictly be an observer, with my own birth experience so fresh still.  The wonderfully unique thing is that she ended up going down much the same path I did, with a baby who required a c-section after trying everything else.  So, I got to see what was done to me, from the other side.  And, I got to photograph that part wearing something like a haz-mat suit, which is something likely to never happen again: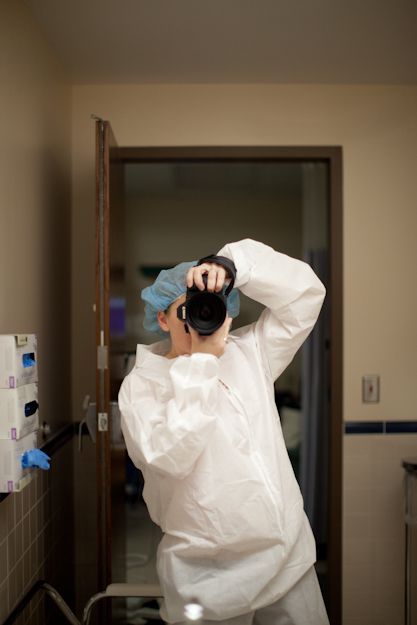 Congrats to the new little family!  Hopefully, this won't be the last birth I capture.
—
I also got cleared to resume all normal activities last week by my doctor.  So, of course I wasted no time getting back to the gym.  It wasn't so much for the weight-loss benefits as much for my mental health.  It felt really good to step back into that routine even for just one morning.  A six-week vacation from my workout routine had me a little scared, but it was better than I expected.  Sure, my usual weights felt heavy again, and my stamina is certainly lacking.  But, on the flip-side, with most of my baby weight gone, everything was so much easier.  With Sloane to take care of, I'm likely not going to get to go as often as I used to, but I'll take what I can get.
—
You know I love Kate Spade.  Today, they sent out an email about all their new wedding accessories -so you know I had to check it out.  This bridesmaid's bracelet is so adorable.  Just the right touch of  whimsy and sentiment wrapped up in an elegant and modern bangle.  The perfect gift!
—
The Oscars.  I admit, I missed the last hour because I fell asleep from baby exhaustion.  But I really enjoyed the show this year.  It was entertaining and moved at a nice pace.  Billy Crystal is a classic, and I loved his little ditty about the best picture nominees.  The only thing I found disappointing was the set design – it was really disjointed.  And, now I really have to go see "The Artist" and "Hugo", two films I've been wanting to see, who swept the awards.
—
Next week I head to sunny Florida for an engagement session.  I'm apprehensive about leaving Sloane for a couple of days, but it will be nice to soak up a little golden sunshine!  And, I haven't been to Disneyland (where we are shooting) since I lived in California, so I'm excited to see all that has changed.
—
Hopefully you've been enjoying the parade of kiddos that have been gracing the blog as of late.  It is so fun to see my wedding couples start families!  Up next on the kid front are shoots for both of the nephews (you won't believe how grown-up they are), and maybe one of these days I'll get around to editing Sloane's newborn shoot too.  There are some engagements and some weddings I shot with friends still patiently waiting for their turn on the blog as well.  All in good time.
—
My dad is here today, watching little Sloane for me, so I can focus and get some work done.  I feel incredibly guilty about this, but it is necessary, as I've been falling behind little by little each week. So, I better get to the rest of today's to-do list before my babysitter runs out.  Have a great week!