So, Hubby and I flew out to Ames, Iowa this last weekend for the fabulouso wedding of Ashley & Tom.  Seriously, it was gorgeous.  All kinds of impeccable taste and good times set amongst the grandeur of the Iowa State Memorial Union.  And, you know, it might have involved this incredible Vera Wang dress which I admit, made me might weak in the knees: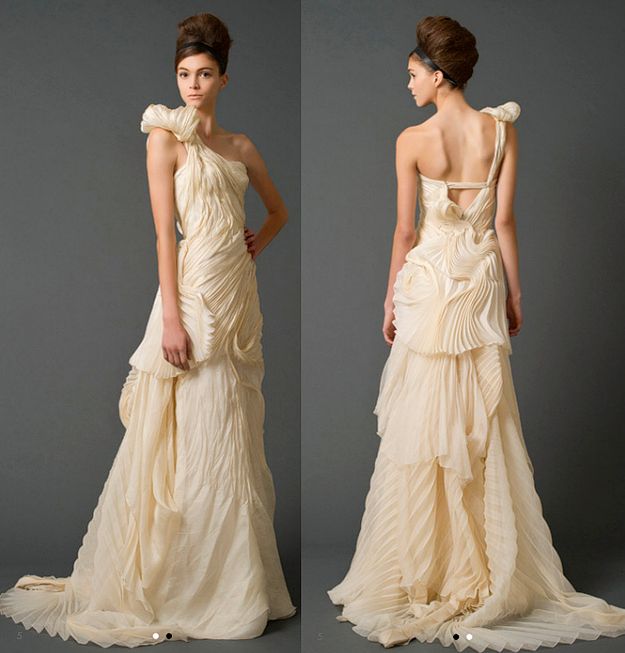 (no lie, Ashley wore it better!)
—
For those of you who are wondering – yes, sometimes Hubby comes along as my assistant.  He's an excellent one too!  And, something tells me he doesn't mind spending the day with a bunch of pretty girls and fun guys.
—
Things we learned about Iowa in our brief stay:  They do, in fact, have a lot of corn.  Barilla pasta is made in Ames, IA.  The Des Moines airport is surprisingly small.  College towns are always charming.  People from Iowa = totally awesome and friendly.  The Iowa state campus is downright beautiful.
—
Cold weather seems to be creeping in.  I'm a bit miffed by it.  Though I enjoy a general crispness.  You know, the kind where you can put on an extra layer of a cardigan or something and be comfortable.  Anything requiring thought of gloves and hats can stay away for another month at least.  I dare say I haven't seen any changing leaves yet – thank goodness!
—
The traveling continues, and I'm headed to Seattle later this week for an engagement session.  I can't wait to see that city thru the eyes of Kristen and Eric!  And to get some awesome seafood.  Seriously, my suitcase just doesn't get unpacked right now.  I just replace the clothes in it, zip it up and head off to the next spot.
—
So excited to finally go see The Help tomorrow evening, and to spend the night out with my good pal, Monica.  A much needed girl's night for sure.  I loved the book, and I've heard such great things about the movie.
—
There's a lot going on behind the scenes here at m three studio.  I've got a little peek at just what we've been up to for you later this week.  Promise!
—
Having Hubby along this last weekend meant he had to board a plane just as the Packer game was starting on Sunday.  This is how I know he loves me.  Seriously, I think this took a year or two off his life, as he tried in vain to listen to the game on the airline's radio system and then race home before the second half began.  Thankfully the Pack won.  Unthankfully, it looks like Nick Collins is out for the season.  So, Packer Nation is a bit down today regardless of the victory.
—
The weddings on the blog are still behind reality.  I have been posting sneak peeks of each wedding on my facebook page recently though.  So, if you'd like a preview of what is to come, head on over and be a fan!
—
A quick Emmy run-down.  Modern Family deserved every award they got.  Juliana Marguiles – I love you, but that dress was a misstep.  The leading comedy actresses hit a home run by all going on stage together.  The singing introductions were a big ker-plunk in awful.  Apparently, I need to start watching the Daily Show with Jon Stewart.
—
Sadly, that's all I have time for this week.  Gotta run – duty calls with a meeting for the county fair tonight.  Have a great week!