Well, apparently I did well enough last week that I get another shot!  Thanks to everyone who checked it out and shared or liked my last post with friends.  Hopefully, I do well enough this time to get another chance in the future, but Molly will be back next week.  Here we go…….
—
The most common question that I get these days is, "How is baby Sloane?"  To answer, she is doing great!  Molly and I are having so much fun being parents.  Don't get me wrong, we are both exhausted all of the time but it's getting better as she is starting to sleep 4-6 hours per night.
—
One of our favorite things so far about Sloane is her facial expressions and arm movements.  Here is one of our favorites: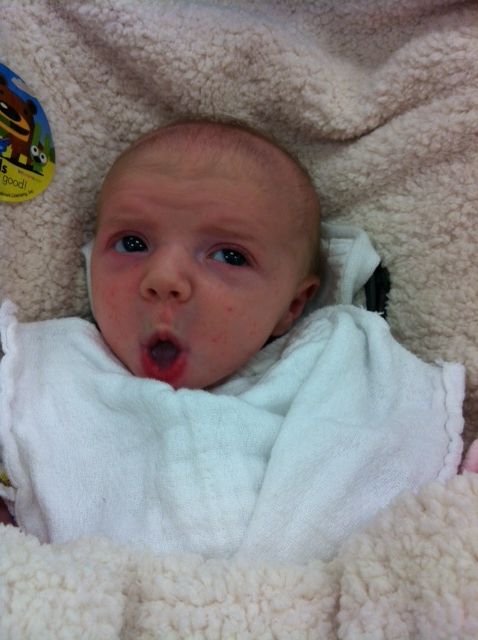 (taken on my iphone)
—
It's getting closer to wedding season and we're pretty excited about that.  I know Molly really enjoyed shooting a great wedding a couple of weeks ago and is looking forward to more!  We still have some open dates for 2012, even a few May/June dates.
—
Besides getting closer to wedding season, it's also getting closer to Milwaukee Brewers Baseball Season!   That has me really excited.  I love reading the Blog Peanuts and Cracker Jacks 2012.  It's a feature on jsonline.com that is done by sports journalism students at Arizona State University about the Brewers at Spring Training.  The content is more human interest stories and fun anecdotes than typical sports talk.
—
Has everyone switched their Facebook profile to the new Timeline Profile?  If the answer is no, don't worry neither have I.  In all honesty I can't decide which picture I want to use for the header.  It's a good thing Molly designs the albums and not me!
—
I watch very little reality TV, but I do have a few favorites.  They are Shark Tank, Celebrity Apprentice and surprisingly The Voice.  By far my favorite reality star is Dallas Mavericks owner (among many other things) Mark Cuban (@mcuban), who is one of the investors on Shark Tank.  I really love his entrepreneurial skills.  He started selling garbage bags at age 12 to pay for expensive basketball shoes and has built an empire from that humble start.  One of the things I respect the most is that he wants to see others succeed and that he also gives back with things like the Fallen Patriot Fund.
—
The Friday Funday! Video comes from The Voice.  It's a unique performance of the Plain White T's song "Hey There Delilah."
—
Make sure and comment on how I did this week and LIKE this post below and share with your friends on Facebook, Twitter and the other million social media networks out there!  Maybe if I get enough response, Molly will let me blog again!  Have a great weekend!