You know how you have that friend you haven't talked to in a little while?  And then you think, "I should call her!".  But you don't because you know the conversation will need to be long to cover the ground you've missed, and you don't have that much time.  That is kind of what has happened around here.  It's been too long since I've blogged.  I've blogged hundreds of times in my head, but never down on the "paper" that makes up this journal.  The thing about that phone call is the longer you let it go, the harder it is to find the time you'll need.  Eventually, you just have to call, and find whatever time you do have to be enough.  So, let's take a few moments and get caught up a little, shall we?
I just flew in from Florida this morning.  I was on Gasparilla Island shooting a most fabulous wedding (sperry tent, putting contest, cigar rollers, fireworks, beachfront catholic mass, I could go on and on) with my good pal Melissa.  If you follow me on twitter, you saw a few updates.  Here are a few iPhone pics from the fabulouso affair:
Top row, l-r: a sign on the beach that had Milwaukee included (!), the cute note left each night by The Gasparilla Inn, us on the beach, Bottom Row, l-r: the Rehearsal dinner, Reception in the tent and Cocktails on the water, a few SX-70 shots of the sights.
—
We stayed in Florida after the wedding to spend a couple of days hanging out, seeing some sights (adventuring, as we call it), soaking up the sunshine and reconnecting as friends.  First stop was Sarasota for a trip to Ca d'Zan.  It is a place I've been longing to visit for a very long time.  My thesis film was loosely based on this historic mansion.  So, I had pretty high expectations.  To be honest, it was dissapointing.  It just didn't look as I had dreamed it would.  It is beautiful, the location is amazing, the details are awesome.  But the overall feel was really muddied by the blaring mid-day sun (that was our own fault) and the Christmas decorations everywhere.  I think during non-holiday time and when the sun is lower – positively magical.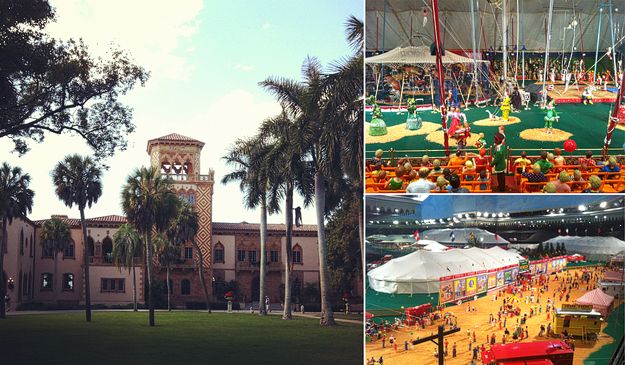 —
Also on the property is the Ringling Museum (Ca d'Zan was John Ringling's mansion).  Melissa and I figured we would buzz thru it quickly since it came with our admission.  We weren't expecting much.  Surprisingly, this was seriously one of the highlights of our trip.  It is Ah-may-zing!  Truly.  You must go.  The best part is a 1/2 inch scale model of a full under the big tent circus.  The enormity of this model is incredible.  The detail will dumbfound you.  It was truly the best way to discover, explore and understand what this was really like.
We had the good fortune to run into a very kind 80 year old woman and her nephew in the museum and she shared with us her own experiences of being part of a traveling circus.  She worked as a dancer and a choreographer for several circuses and was responsible for bringing acts over from Europe and consequently helped those people escape the Nazi invasion.  Her stories were wonderful and so fun to hear.
—-
There is a lot more from this trip to share – but I'd rather wait until I get my film back so I can show you pictures too.  Yes, I shot film – it is a favorite activity of mine, but I only do it when I'm shooting for myself.  Can't wait to get the scans back!
—
The moment I left, Baby Girl decided to get super bold and started cruising along the couch and also figured out how to climb the stairs.  I missed her greatly, and I swear she has aged a month in the few days I was gone.  She's already ten months old now, and growing so fast.
—
The Florida wedding was my last of the year, and this season is really ending with a bang.  My equipment needs some serious r&r, as do I.  I've been working every possible moment to get everyone's album designs in before the holiday deadlines.  It has been a grueling couple of weeks for sure.  There is still more to do as I race to get the last weddings of 2012 fully delivered before Thanksgiving.
—
Hubby and I realized the other day that we haven't been to an actual movie – in the theater – since before Baby Girl was born.  Oh my.  What should we start with?
—
My Milwaukee wedding season ended the week before last with Andrea & Bryan's spectacular wedding at the Grain Exchange.  So fun, full of surprises and a great end to a stellar season.  As a bonus, former clients Ashley & Tom were in town as guests, and we got to catch up over lunch the next day.  Such an unexpected surprise, and a great way to spend the afternoon.
—
We had a photo shoot for our own little family a few weeks ago, shot by a good friend.  The weather was awful- drizzling and windy, overcast and chilly.  There was no rescheduling it, so we forged ahead.  I haven't seen the results yet, but I'm hopeful.  Now I know how my clients feel when the weather goes ugly on a shoot day.  No fun!
—
I hate how early the sun sets now.  It's so depressing, and really messes with my internal clock.  Like right now, it is not even dinner time but it is practically pitch black outside.
—
I discovered I like salmon at Andrea & Bryan's wedding.  Turns out I just hadn't had it prepared correctly before.  Yum!  It's always nice to discover you love something that is also good for you.
—
I feel like I should have more to tell you about – but between photo-shoots, meetings with new clients, editing, album designs and just general work, there hasn't been time for much else.  I suppose this time too, could be better spent putting up a blog post that is a bit more fun….like say a wedding?  Stay tuned, I have a lot waiting in the wings, ready to hit the blog!