It's here!  The ever popular BEST OF 2012 contest!
2012 was a wonderful year for m three studio weddings.  I shot everything from a snowy jewish wedding in February to a steamy destination wedding in Charleston, SC.  Looking back, it's always fun gathering some statistics:
– Two brides named Annie, married one week apart, both at a country club.  This sort of symmetry hasn't happened since the year of three Kates.
-Three Grain Exchange weddings and two Lake Park Bistro weddings – in Milwaukee, Bartolottas clearly rules.
-A wedding at each of the Kohler wedding venues (except The American Club): Riverbend, River Wildlife and Whistling Straits.   I adore Kohler, their staff and each of their venues.  I've been wanting to shoot at Riverbend and River Wildlife for years, so I was excited to get the opportunity last year.
-14 non-traditional outdoor ceremonies, which are clearly my specialty.
-7 destination weddings, including a first-ever one right here in Milwaukee!
-Most importantly, 38 happy newlyweds!
Looking for the similarities is easy, but it is the unique differences that make each of these weddings so awesome.  Each one is special, personal and beautiful.  Click on the names of each couple to visit their blog post and check out their unique day.
Voting and details are at the bottom!
The weddings of 2012, in chronological order:
Robyn & Paul's Schlitz Audubon Wedding – a sweet wintery party caps off the traditional jewish ceremony for these two lovebirds.  Snow, sparkles, and a super big and fun wedding party.
Beth & Stu's Homestead Meadows Farm wedding – a former tour de france cyclist marries a doctor with a knack for crafting.  Animal shaped place cards, bicycle spoke and fabric streamer decorations and a little bit of running….
Elizabeth & John's Old St. Mary's and Grain Exchange wedding – two lawyers find love and beauty on a rainy day in april.
Gorgeous spring florals that are anything but expected, a stunning lace dress, and a wedding party stop at Blu.
Alys & Dietmar's Riverbend Wedding in Kohler – a girl from Chicago falls in love with a guy from Austria and they have a cocktails and dinner wedding to celebrate.  An elegantly casual dress, lots of champagne, and a Great Gatsby-esque atmosphere.
Liz & Andy's Door County lakeside wedding – a stylish and creative bride pairs up with a fun-loving businessman at her family's home in Door County.  Anthropologie-inspired table settings, furniture groupings in the woods, chevron table runners, and fun pops of color.
Ashlyn & Chris' Grain Exchange wedding – classic Milwaukeeans thru and thru frame up their day with serious fun.
A cathedral length veil with a mind of it's own, a crazy-cute ring bearer and preppy style abounds.
Lora Ann & Craig's Charleston Wedding at the Cotton Dock at Boone Plantation – two hearts from Denver host a low-country soiree.   Spanish moss, hanging lanterns and a dock right on the water, all enveloped in the romance of a historical property.
Emily & Chris' Wild Rock Golf Club wedding in Wisconsin Dells – a sassy and vibrant bride marries a quiet and talented groom.  Handmade wood centerpieces, cupcakes, a bag-piper and a whole lot of emotion.
Anne & Joe's Tripoli Country Club Wedding – Two best friends with fantastic preppy style marry right on the golf course.
Striped flower girl dresses, pretty pink peonies, dresses with pockets and khaki suits.
Annie & Ben's Skokie Country Club wedding – two world travelers bring all their favorites back home to share with their guests.  Dinner al fresco, a sunset jewish ceremony, gardenias, and a rockin' hora.
Emily & Nate's Villa Terrace ceremony and Cuvee Reception – a bride and groom with great taste and serious party genes.
All white flowers, adorable flower girls, and fun, fun, fun.
Courtney & Ben's Milwaukee Art Museum wedding – a bride and groom who know how to pack in everything that makes a wedding day special.  Bucky Badger, white and blue decor, drinking boots, two dresses and a horse-drawn carriage.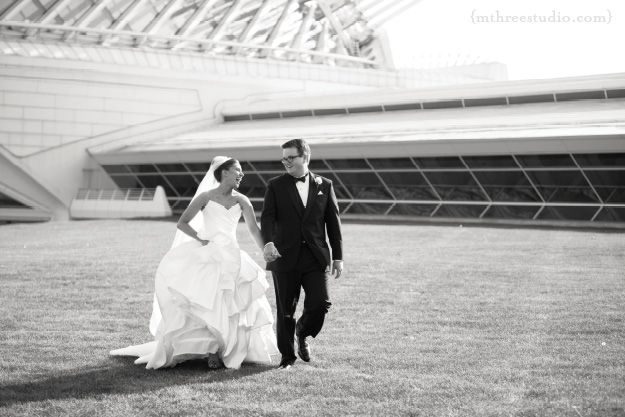 Shannon & Corbin's Lake Park Bistro wedding – two childhood sweethearts find their way to each other (and donuts!) once again.  Red flowers, grey dresses, chic silhouettes, and maple frosted donuts.
Lynnea & Jason's Whistling Straits Wedding – a chicago couple hosts a destination wedding on Wisconsin's own little slice of Ireland.  Rustic elegance, a broach bouquet, a sassy wedding party and a peplum gown.
Amanda & Clint's Milwaukee wedding – a pure and simple affair that focuses on all the right things.
Potted centerpieces, a one-shoulder gown and a vintage truck.
Kristen & Eric's Federal Courthouse ceremony and Lake Park Bistro brunch reception – native wisconsinites host a wedding weekend to show off all Milwaukee has to offer to their friends from all over.  Cheeseheads, cornhole, readings from Rocky, and an antique couch.
Krista & Mike's Grand Geneva Mountaintop Chalet wedding – two friends come together as husband and wife in a cozy and casual wedding.  Floral chandeliers, a crafty bride, colorful fall bouquets and dimensional table numbers.
Nicole and John's River Wildlife wedding in Kohler – two people as much in love as their two yorkies are cute.  Flea-market finds, fall color, 30 guests and a hunting lodge deep in the woods.
Andrea & Bryan's Grain Exchange wedding – two Californians return to Milwaukee to continue a tradition and wed where her parents did.  A crazy fur coat, stained glass and an awesome surprise performance.
Do you have a favorite picked out?  Great!  Vote in the poll below!
The fine print:
-Voting runs from noon today (March 5) thru Monday, March 11th at Midnight.  Voters are recognized by IP address, and you can vote once per day, per IP address.
-Results are hidden, but we will be updating regularly on facebook and twitter, so be sure you are a fan of m three studio to get the latest totals!
-PRIZES, PRIZES, PRIZES:
The Wedding with the most votes wins:
One Photo Session and a full set of digital files with printing rights. ($700 value)
Use it for whatever you want – an anniversary, the first baby, your family this fall, etc.
The second place wedding wins:
One 20×30 Canvas Gallery Wrap ($325 value)
The third place wedding wins:
One 16×24 Canvas Gallery Wrap ($240 value)
VOTERS CAN WIN TOO!
Like this blog post on Facebook and you will be eligible to win a $25 Starbucks card!  The winner will be chosen randomly from all who click "Like" below.
Help the couples out with getting votes:
-Like this blog post on facebook (use the button below)
-Pin your favorite photos to Pinterest
– Tweet about the contest and invite your friends to vote
-Share the contest on your instagram
-Like the m three studio facebook page
Vote here:
**All prizes will expire one year from today, so be sure to redeem them!**