Yes, I love couples in love.  Yes, I adore your stories.  I believe in marriage, and I crave the energy of a wedding day.  But when it gets right down to it, I get seriously inspired by the location.  Place has always been a huge driving force in my work.  Looking back on my art career and training, you'll find I was always drawing, painting, printing and making films about places, and the stories they held.  It is part of why I love to travel so much – I have an insatiable appetite for new places, new stories.  This blog series is all about the places I would love to shoot a wedding at because I find them seriously intriguing, inspiring and amazing.  And I have no doubt that a couple who chooses to get married there would be equally amazing and inspiring and I want to be there to document it.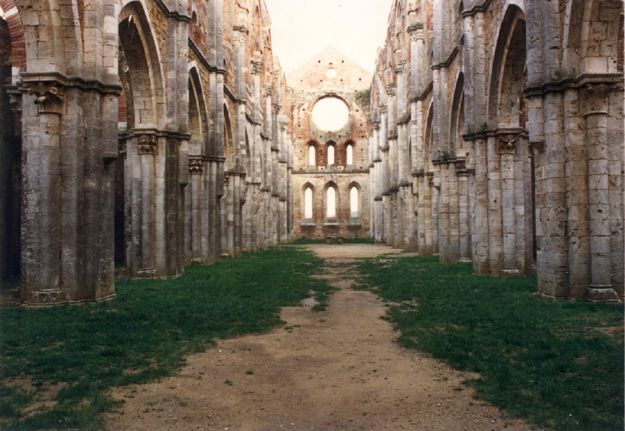 So, if you know me at all, you know it wasn't going to be long before this blog series touched on Italy, right?  Recently an Italian photographer friend of mine posted an engagement session she shot at this location on Facebook.  I've been dreaming; like serious, wall-gazing, day-dreaming about this amazing wedding location ever since.  It is everything I love and adore in a place.  History, abandoned-ness, Italian, natural fields, amazing light, mystery, walls steeped in stories….ah, I could go on forever.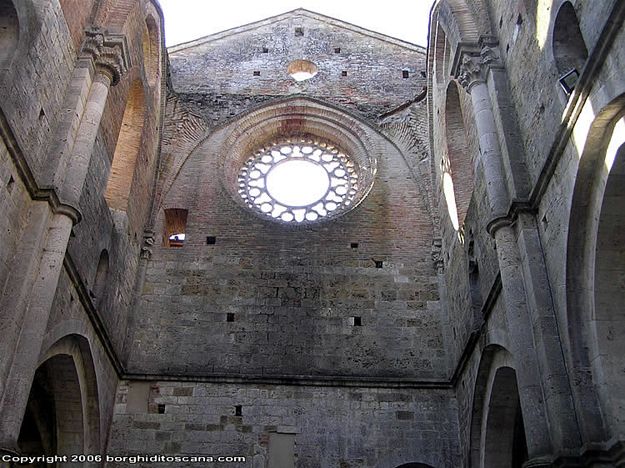 A wedding at San Galgano Abbey would be the culmination of my career as a wedding photographer I think.  I don't know if it gets better than this.  I really don't.  An immense, beautiful, gothic cathedral, with no roof, in the middle of nowhere. Well, nowhere Tuscany.  Seriously – isn't this the kind of thing you dream about catching a glimpse of on a vespa while exploring the tuscan countryside?   It is places like this, ones where the very air you breathe feels laced with that of exhalations of generations long forgotten about, that I love the most.  These are the kinds of locations that make you feel lucky as you pass beneath their arches.  The kind that bless you with their specialness.  I can't think of a more beautiful location, or a better place to get married than within the ruins of San Galgano.  A church that is also overtaken by nature?  Sign me up!
Located just 30km west of Siena, this location is conveniently close to city life and several beautiful Tuscan towns (Monticiano, Petriolo, Sovicille, Murlo and Monteriggioni among them), and yet still so isolated that it feels stumbled upon.  In fact, I've been going back and forth about even blogging about it, because I would loathe to see it lose its wonderful "secret" status.  I hate when magical, amazing places lose that quality because of tourists.  They retain their unique qualities if they remain in shared consciousness, not on advertising brochures.
San Galgano is said to be the origin of several medieval mysteries – the search for the Holy Grail and the Sword in the Stone among them.   There is a real sword in a stone in the chapel of Montesiepi, which is a round building with an amazing domed ceiling of 24 concentric circles that is part of the San Galgano grounds.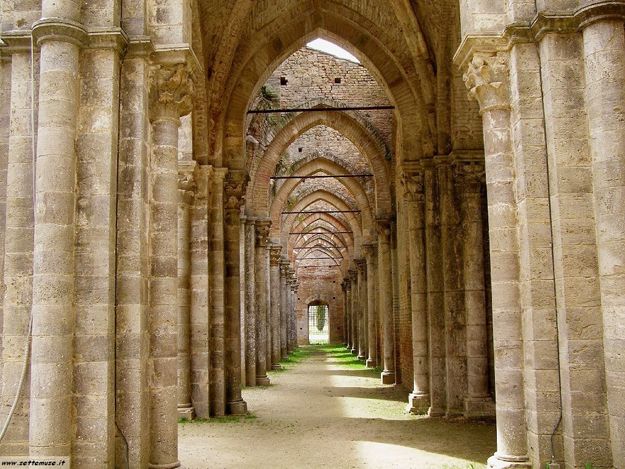 So imagine a San Galgano Wedding.  Walking past the proud columns with light streaming in through the arches.  A gentle breeze blows across the sunflower field and into the apse, catching your veil.  Sweet, yummy Tuscan light floods the open air cathedral as you say I do.  Running in and out of the side aisles.  Walking thru sunflower fields.  Finding long forgotten nooks and crannies. Watching the sun move from the sky overhead and down thru the open windows.  Ah, it is so amazing, I can't stand it.  Someone stop me now from booking two tickets to Italy for a vow renewal for me and Hubby!
The pictures, oh, the pictures would be so epic, so emotional, so amazing, so filled with that intangible something.  This is the light and situation of dreams, at least my dreams.  If this is the location of your wedding dreams too – I know I am the perfect wedding photographer for you.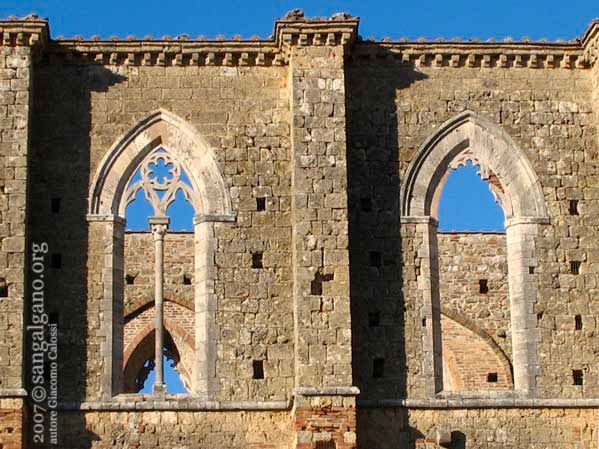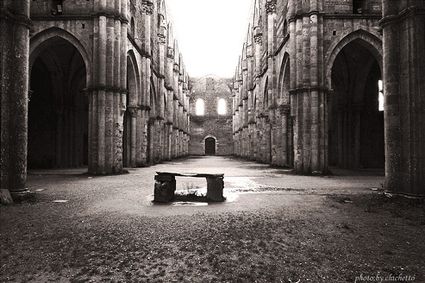 ***All images are from Google Images unless otherwise noted***