Yes, I love couples in love.  Yes, I adore your stories.  I believe in marriage, and I crave the energy of a wedding day.  But when it gets right down to it, I get seriously inspired by the location.  Place has always been a huge driving force in my work.  Looking back on my art career and training, you'll find I was always drawing, painting, printing and making films about places, and the stories they held.  It is part of why I love to travel so much – I have an insatiable appetite for new places, new stories.  This blog series is all about the places I would love to shoot a wedding at because I find them seriously intriguing, inspiring and amazing.  And I have no doubt that a couple who chooses to get married there would be equally amazing and inspiring and I want to be there to document it.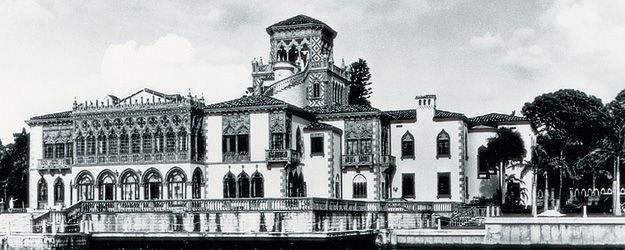 This edition of "All about the Location" is quite possibly my personal artistic holy grail.   Ca d'zan has played a pivitol role in my trajectory as an artist.  This Sarasota, Florida mansion was a whole character in itself in one of my favorite films of all time: "Great Expectations".    Not the old-time film, the 1998 film with Ethan Hawke and Gwyneth Paltrow – the one directed by one of my favorite directors; Alfonso Cuaron.  That film was incredibly inspirational to me as an artist, and as a film maker myself.  The look of that film, the way it told a story, the camera moves, the cinematography, the clever way it uses the color green, the paintings by Francesco Clemente – the light!  It all played a crucial role in what kind of artist I chose to be, what kind of artist I still am.   The film, and the Ca d'zan mansion in it (which stood in for Ms. Dinsmoor's home) were a large force behind the inspiration of my animated thesis film, "Old Night".
Here are a few stills from the film "Great Expectations" – sorry they are tiny and poor quality – it is all I could find:
You see those two people dancing in a decaying ballroom?  Here's a still from my thesis film (I apologize again for the poor quality, it is hard to find my old files, and this was the only one I could find and it was teeny tiny)
I could trot out a whole bunch more of my prints, paintings and such to show you how this film, and more pointedly, this place, have influenced me, but I think you get the point.
So the real kicker is….I've never even been to Ca d'zan!  But I love it deeply anyway.  It would be an incredible place to shoot a wedding.   And it would be an incredible place to have a wedding too.
I mean – who doesn't love a gothic venetian mansion right on the water?  In Florida?  With amazing light?  Hello!

This mansion was built in the mid 1920's by The Ringlings of circus fame.  Their air for the fantastic gives this mansion a larger than life quality.  The interior is just as amazing as the exterior.  The waterfront portico is perfection for a wedding ceremony or reception, and the courtyard adjacent to the mansion (below) would be awesome for an outdoor reception as well.
The grounds of the mansion are extensive and gorgeous with dripping spanish moss, formal and more casual garden spaces, palm trees, other gothic structures (even a full museum of art modeled after the Uffizi Gallery in Italy), a five story high tower with views for miles, the list goes on and on.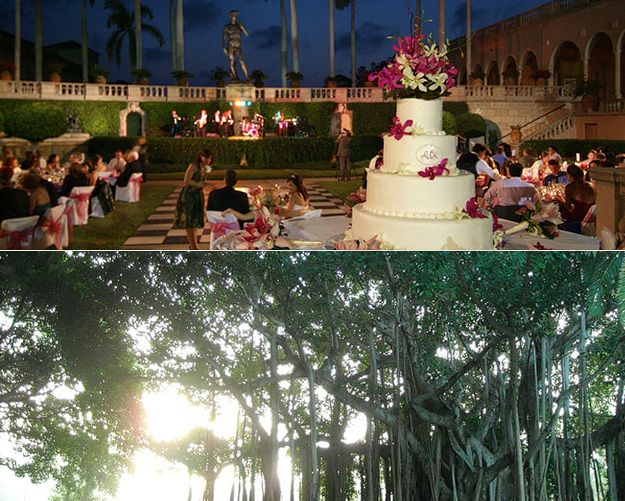 Like I state at the beginning of every "All about the Location" post – I truly feel that my clients feel the way I do about places.  That they have meaning, character, and are an important consideration and top priority in your wedding planning.
Any couple who would choose this incredible location for the start of their marriage is tops in my book.  So, if you want a photographer that is as in love with your location as you are – I'm your girl.  My artistic heart might just live at Ca d' 'zan, nestled in among it's gothic promenade or tucked away between the portico tiles.
**All images in this post are from the Ca d'zan website.  They didn't give any photo credit for them, so regretfully, neither can I.  But they are not my work. **