I haven't even posted Christine & Charlie's wedding to the blog yet, and they were married back in May (remember when I said the blog is far behind reality?).  But I do want to share this moment before I forget.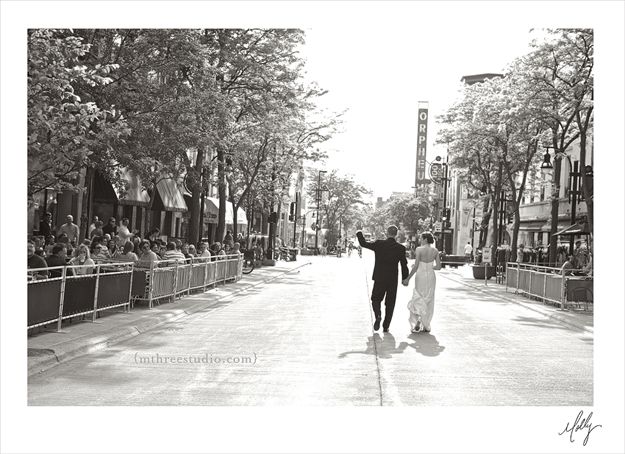 After their wedding party pictures at the Capitol, Christine & Charlie decided to walk down State Street to their reception at the Overture Center.  It was early evening, with the sun sinking low on the street.  People lined the sidewalks browsing, eating, drinking and enjoying the first days of summer.  A group of drummers were gathered near the top of the street and you could hear their beats for blocks.  Suddenly, Charlie seized the moment and led Christine into the middle of the street and made his own wedding parade.  People clapped and cheered, the street was all theirs, and the drums beat on.  They laughed and smiled and stole looks at each other as they walked, hand-in-hand, towards the sunset.  It was quite a moment, made all the better by the fact that it was entirely found and spontaneous.
When we reached the Overture Center and the wedding party was again on the sidewalk, Charlie turned around, his face lit up like a firecracker, "That was awesome!".
It was.